Who is Northwest Camera Repair?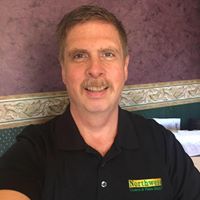 Me, my name is Gus Gulbranson. I own and operate Northwest Camera.
My story: I was born and raised in Lindstrom, MN and the building Northwest is located in is where my father had a jewelry/gift shop where he was also a watch repairman. I worked at this store growing up and at about the age of 12, I started repairing Timex watches and eventually repaired clocks. This is where I got my ability to repair small things. Through high school and into college, developed a love of photography and combined that love with my ability to repair decide I wanted to learn to repair cameras. At the age of 23, I started working at Northwest Camera Repair in downtown Minneapolis on April 1st, and as my saying goes "it has been a joke ever since".
In September 1994, I and two other technicians purchased the assets of Northwest Camera Repair and started doing business as Northwest Camera & Video Repair. In the following years, each of the other two technicians left so now I am the remaining technician. I have repaired pretty much anything that has been put in front of me so I would guess I have repaired 500+ different makes and models of cameras in the 32 years I have been doing camera repair.
In April 2012, I moved Northwest Camera to Lindstrom and occupy the rear of the building that I grew up working at, the front of the building is Goldstar Printworks, my brother's screen printing and embroidery business. I offer no charge estimates on most repairs and I do "while you wait" sensor cleanings and many times minor repairs.
Lindstrom has many businesses you can visit "while you wait", there is the well renowned Lindstrom Bakery as well as a wonder coffee shop, Northwoods Roasterie. The business next door is actually many businesses in one, a candy/cheesecake/tea shop, a gift shop, a knit shop as well as a game/gamers shop. There is an antique shop with another on the way, a kitchen shop and a couple boutique shops, so there is no lack of this to do "while you wait". For people that want to make even more of a day of it, there is the Franconia Sculpture Park and Taylors Falls/St. Croix Falls less than 15 minutes away.