Who is Northwest Camera & Video Repair?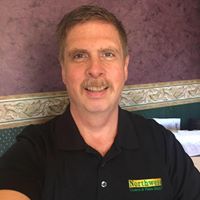 Me, my name is Gus Gulbranson, I own and operate Northwest Camera.
My story: I was born and raised in Lindstrom, MN and the building Northwest is located in is where my father had a jewelry/gift shop where he was also a watch repairman. I worked at this store growing up and at about the age of 12, I started repairing Timex watches and eventually repaired clocks. This is where I learned I had an ability to repair small things. Through high school and into college, I developed a love of photography and combined that love with my ability to repair, decided I wanted to learn to repair cameras. At the age of 23, I started working at Northwest Camera Repair in downtown Minneapolis on April 1st, and as my saying goes "it has been a joke ever since".
In September 1994, I and two other technicians purchased the assets of Northwest Camera Repair and started doing business as Northwest Camera & Video Repair. In the following years, each of the other two technicians left so now I am the remaining technician. I have repaired pretty much anything that has been put in front of me so I would guess I have repaired 500+ different makes and models of cameras in the 36 years I have been doing camera repair.
In April 2012, I moved Northwest Camera to Lindstrom and occupy the rear of the building that I grew up working at, the front of the building is Goldstar Printworks, my brother's screen printing and embroidery business. I have a $20 minimum charge to look at equipment which applies towards any repair and I do "while you wait" sensor cleanings and many times minor repairs.
Lindstrom has many businesses you can visit "while you wait", there is the well renowned Lindstrom Bakery as well as a wonderful coffee shop, Northwoods Roasterie. The business next door is has an ice cream/candy shop. There is an antique shop, a kitchen shop,  a couple boutique shops and a collectables shop that specializes in silver jewelry, coins, vinyl LPs and stereo receivers so there is no lack of things to do "while you wait". For people that want to make even more of a day of it, there is the Franconia Sculpture Park and Taylors Falls/St. Croix Falls less than 15 minutes away.