We get asked this question over and over.  In this new digital age, many people have abandoned their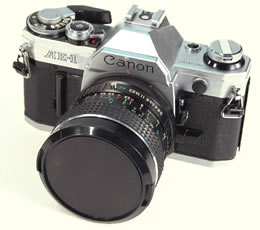 high-quality film cameras for the ease and convenience found in today's digital cameras?  Not necessarily, years later, people are discovering their old cameras in their drawers and began to ask, "should I start taking pictures with my film camera again?"
Recording images on film is a very different process from Digital imaging.  Film has the capability of producing all the various hues and subtleties not found in digital images.  Producing a photograph digitally that is comparable to an image recorded on film requires special manipulation.  Images recorded on film are less harsh and more natural.
If your camera has been stored for quite some time you may wish to have it checked before using it.  One of the most common problems found with older cameras that have been stored is the foam used to seal the film door has broken down and granulated.  Streaks on your negatives are usually a sign that there is a light leak somewhere around the area of your film door.  Replacing the foam will correct this problem.
Another problem found when storing any item that uses batteries is leakage. If left unchecked, corrosion can occur and damage the entire unit.  When storing any electronic device, all batteries should be removed.
Northwest Camera has been repairing older film cameras for decades.  With thousands of parts in stock and years of experience repairing these older cameras, restoring your camera to new condition is a very real possibility.
Whether you own a Nikon, Pentax, Olympus, Yashica, Canon or Minolta camera, Northwest Camera is here to bring your camera back to life.
Since 1935, Northwest Camera has been serving the family "photographer" with fast, reliable, and friendly service.
We repair most makes and models of photographic equipment
Older cameras with hard to find parts
Minor repairs for the battery cover or film door that breaks
Flash foot that breaks
Digital cameras
Lenses
We service most brands
Canon
Fuji
Minolta
Nikon
Olympus
Pentax
Many other brands
This includes small, medium, and large format cameras. We repair lenses for all the same formats. Service is available on most all photographic equipment and accessories.
We also offer service on all makes and models of video recording equipment. That would include video cameras and camcorders.